This is the 3rd part of my mini-series on Kohana 3 auth. I figure the best way to show the Kohana Auth module works is to provide a sample application module which uses auth. In this series of posts, I discuss:
Setting up the basic Auth in KO3 (part 1)
Tips on implementing Auth in a custom application (part 3; this part)
The new release is AWESOME , and now is based on the Kohana 3.1.x API. (You can get the old version for 3.0.x via Github.)
Here are a few screenshots: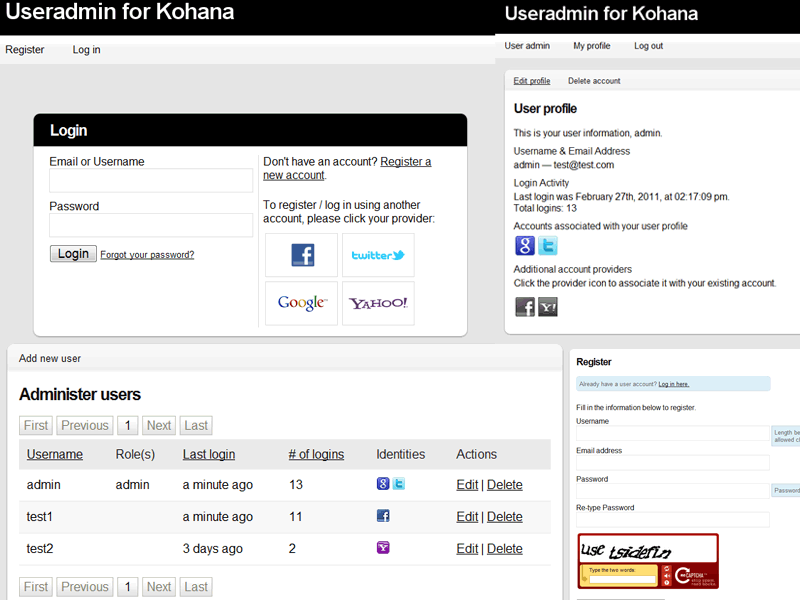 New UI, more providers supported! Get it from:
This is a custom module, and the code is in /modules/user. The code contains way more comments than usual. I've tried to make things clear, and keep the UI basic but pretty enough.
Further, the code is released under the BSD licence, so you can use it in commercial applications. While I don't restrict you in using the code, it is good karma to send improvements to this module back: in particular, I would like to have the features in the roadmap below.
What functionality is there:
Use the base Ko3 auth module and do not reinvent the wheel — OK
Support translation; no strings without __() — OK
Boilerplate for administration (create user, edit user, delete user, list users and last logins) — OK; roles have to be added via DB but that's OK
Boilerplate for users (login, logout, view profile, edit profile, unregister, access denied page; error handling/validation) — OK
reCAPTCHA optionally supported for registration — OK; implemented for registration, thank you jnbdz!
Optional support for 3rd party login:

Facebook — OK
Google — OK
Yahoo — OK
Twitter — OK (with the caveat that Twitter does not allow you to get the email address via api)

Login  using username, email or both — OK
Optional lost password reset via email — OK; workflow is a bit clunky (user has to type the new password one time)
Optional autologin support via cookies — OK but not documented here; read about it Ko3 docs. Need to add checkbox to UI.
Optional enforcement of number of failed login attempts — is there but configuration/activation is clunky.
UI design that doesn't make your eyes bleed — OK
Kohana 3.1.x support – OK, thank you gartz!
What needs to be done – contribute this!
reCAPTCHA optionally supported for too many failed logins
Optional account activation via confirmation email + expire unactivated account/welcome message via email
Optional password strength indicator for client
Separation between module and sample app on Github — e.g. migrate development to Github only
Nice-to-have (perhaps release as compatible modules?)
Profile picture loading from Facebook, Twitter or uploaded image — not yet.
So if you implement any of those, and don't it to be too much of a burden to publish them under the BSD licence, let me know via comments or via email (firstname.surname@gmail.com).
Changelog is in the readme file on Github/Bitbucket.
Useful code snippets
Here are some code snippets which show you the basics of Auth:
Create a new user (e.g. if you have not set up any users yet and want to do that programmatically)
Check whether current user has a role
Check whether some other user has a role
Add a role to a user
Remove a role from a user
Retrieve all users that have a particular role
Documentation on the interesting bits
The template view
The template view in /views/default/template.php uses the Thematic-inspired markup which I discuss in this post. You can do a lot by adding a few more divs into the header div. I have tried to follow my own advice about CSS, but the included CSS file is pretty basic. It includes the Yahoo CSS reset.
Controller_App: base controller class
This is the "base" controller I use for all the classes. It handles template autoloading and auth checks. You should inherit all your controllers from Controller_App to benefit from its features.
There is also one additional neat thing: in case of session expiry, Kohana may show an error in session loading. There is an additional check for this in Controller_App, which discards the session in case of loading errors.
Template autoloading loads the file from /views/default/template.php, so that you just have to set $this->template->content = $view->render() in your controller.
Auth checks are configured through two additional properties in the controller:
/**
 * Controls access for the whole controller, if not set to
FALSE we will only allow user roles specified.
 *
 * See Controller_App for how this implemented.
 *
 * Can be set to a string or an array, for example array('login', 'admin') or 'login'
 */
public $auth_required = FALSE;

/** Controls access for separate actions
 *
 *  See Controller_App for how this implemented.
 *
 *  Examples:
 * 'adminpanel' => 'admin' will only allow users with
the role admin to access action_adminpanel
 * 'moderatorpanel' => array('login', 'moderator') will
only allow users with the roles login and moderator to access action_moderatorpanel
 */
public $secure_actions = array();
Controller_User: Controller for user self-management
Particularly interesting code is in the register view, which shows how you can load validation error messages from a file, and how you might alter classes to show errors.
You might want to improve that code, I haven't had the time to create a proper helper for this.
action_index shows how to check for a particular role using auth
action_noaccess is the generic "access denied" view.
action_profile and action_profile_edit show how to load data, and how to validate data on save. See application/modules/user.php for details on how the validation is done.
action_register shows how to create a new user.
action_unregister shows how to delete the current user, and log them off programmatically.
action_forgot is a basic example of how forgotten passwords might be recovered. I haven't implemented the email sending functionality for now, so if you do it, please contribute here.
action_reset resets the user password if the user knows the 32-letter recovery key which should be emailed to them.
Controller_Admin_User: Controller for administering users
You need the admin and login privileges to access this controller.
There is a sample implementation of how to use Kohana 3 pagination in the index view. This could be improved e.g. by a helper that would take into account the sort state.
action_index is a sample of how pagination can be used.
action_edit is the administrative edit and add for new users. It shows how to add roles to users and also how to combine editing and adding new users into one action
action_delete is the administrative delete function for deleting users.
Model_User: Model for users
This code is mostly based on Model_Auth_User (in /modules/auth/classes/model/auth/user.php). However, I extended the login() function to support failing after too many attempts over a 5-minute period.
The "too many recent failed logins" functionality is commented out, since it will need a few additional fields.
Also, you might want to add the "created" and "modified" columns, there is a comment showing how this can be done using ORM functionality.
Questions, comments, thanks, contributions?
Leave a comment below… or ask on the Kohana forums.